Suitable clothing shall be given the monks…
Are you seriously going to wear that?
Well it was bound to happen, wasn't it? Sooner or later the conversation would come up about…
Vestments.
I have run a session on Holy Communion for two of our church's home groups. The first part of these sessions look at why clergy wear what they wear. I am always keen to point out that its probably the practices came before the theory but that doesn't negate the importance of the theory; if it worked for the Trinity it works for anything!
I hope, dear reader, you won't mind me skimming through the major aspects of Anglican vestments as I understand them. I also ask that you, hold off judgement on the legitimacy and missional pros and cons of such outfits until I am finished. Do you promise?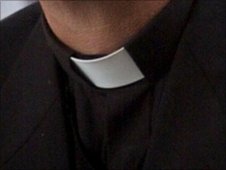 I will start with my 'everyday wear': the dog collar.
The dog collar is so called, in my mind anyway, because it is a symbol of being led and, simultaneously, leading a walk with my master: God. At the end of John's gospel Jesus says to Peter,
"Very truly, I tell you, when you were younger, you used to fasten your own belt and to go wherever you wished. But when you grow old, you will stretch out your hands, and someone else will fasten a belt around you and take you where you do not wish to go." (John 21:18)
When I made my vows and entered 'Holy Orders' I handed over my freedom to live as I wanted to live, to say what I wanted to say, to go where I wanted to go… well that was the idea. The problem arose when I failed to live up to that promise. In that way I allow God to lead me (and when I put my dog collar on I am reminding myself that God is in charge and will lead me to where I do not wish to go necessarily) but I also have a tendency, like a dog, to run on ahead and drag God to the lampposts and other dogs that take my fancy. There is, in the image of dog and owner, a beautiful give and take. The owner is in ultimate control but they allow the dog to explore but when they need to go somewhere particular the collar becomes tight and the owner drags the animal in a certain direction.
There are time in my life now where I know where God wants me to go and what he wants me to do but I resist. It is at these times the collar becomes tight and I want to throw it off. I always listen deeper at those times! To use a simple example: when I'm driving. Say another driver cuts me off or forces me to break the Highway Code and I want to swear at them and let them know my anger but I'm wearing my dog collar; I tend to resist the temptation from expressing my anger and instead smile and pray blessing on them. Or say I am walking down the street in my dog collar and I see a homeless person begging for money… That usual dilemma of how to respond, knowing that money is not necessarily what they need but a meaningful encounter with another human being who will listen to them and their situation and care for them, is multiplied for me. There are times when I'm rushing to get to a meeting and pass several homeless people on my way; without the dog collar there is less guilt (because I'm a broken and fallen person!) than when I pass them in a dog collar. The dog collar at those times becomes so tight that I know of other clergy who don't wear dog collars in the centre of cities. I find myself stopping for each one and being late for meetings… In this way the dog collar helps me.
There are two camps in the Church: those who do wear them and those who don't. Dog collars divide the clergy. Some feel they are a barrier to genuine relationship with strangers whilst others feel they invite relationship with strangers where otherwise there would not have been. The problem is that it's a bit of both; sometimes the dog collar puts people off talking or opening up to you, the wearer, while other time it starts conversation. I don't think there is a stand out winner for which it is more: it just depends.
For me, personally, I find it more helpful than I do a hindrance. I have had my fair share of abuse thrown at me because of the dog collar (or at least I think it was the dog collar). I have even had a can of coke thrown at me by a stranger but the conversations that the dog collar has encouraged far out way the negatives. I was on a bus in Leeds wearing my dog collar and a complete stranger started sharing about his wife who was suffering through chemotherapy and he didn't know how to support her. I listened and tried to encouraged him. He asked if I would walk him to the ward as it was close to my destination anyway which I happily did. I prayed with him before he went to see his wife before parting company. I know that wouldn't have happened if I wasn't wearing a dog collar.
Some clergy feel the dog collar asserts authority onto conversation which may seem oppressive. I can see how that might be the case but that's where the character of the wearer must be challenged. If that is the motivation behind wearing it then you should probably pray through that and challenge yourself. The dog collar does set you apart from other people, other Christians as well but that's the point. Philip Lawrence astutely tells us,
Today many monks want a clerical wardrobe, a monastic wardrobe and a lay wardrobe so that "they will not stand out" when they are with various people. This seems clearly against the thinking of Saint Benedict. We monks should always look like monks. We have only one identity and that identity is being a monk. (Philip Lawrence, "Chapter 55: The Clothing and Footwear of the Brothers", Benedictine Abbey of Christ in the Desert, March 1 2015, http://christdesert.org/Detailed/926.html)
There is a theory that clergy should be just like other Christians and I agree, in the most part, with that sentiment. There is, however, a distinction between clergy and laity but I don't think it is where most people think it is.
Yes, we are 'a priesthood of all believers'. Yes, we are 'a company of saints'. Yes, I believe the hierarchy in the established Church hinders change and can be restrictive and it is here that we must rethink the distinction. Being ordained is not about raising a person 'up the ladder' but separating them for a particular task. Being ordained, for me, was about being set apart as a public example of discipleship. Yes, all should be public examples of discipleship, but we aren't and we need people to be disciplined to do it so we can all be encouraged.
It's the same with marriage. Yes, we should all love others intimately and with complete selfless, faithful and unbridled desire for the flourishing of them and their transformation into the likeness of Christ, but we don't. In order to protect that ideal, some are called to commit themselves to the discipline of chastity to another and work out how to be faithful through the chains of marriage and part of marriage is about this type of 'slavery' but it is through this we discover true freedom.
For the Christian to be perfectly free means to be perfectly obedient. True freedom is perfect service. (Stanley Hauerwas, A Community of Character: toward a constructive christian social ethic (Notre Dame: University of Notre Dame Press, 1981) p.131)
The dog collar is a reminder for me that I no longer have the freedom to shirk my discipleship. The dog collar is more for me than for others, to remind me that I am to learn what it means to be holy, set apart from the world.
I know that my view of ordination is monastic in character for this very reason and I'm still on a journey with this understanding.
Most of the other vestments, for me, stem from this basic understanding of ordination.
So a quick run down of what is what and why it is used. Bear in mind that people have different understandings of the symbolism behind vestments and this where the conflict in what they say to observers occurs. I will also only speak on vestments that I am asked to wear as a 'low church anglican'.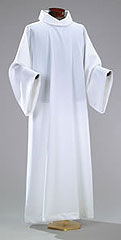 Cassock Alb: Is a white garment that goes over clothes. This symbolises a clothing of the wearer in heavenly glory. This is about identifying the role of the leader of worship and not the person wearing it. The leader of worship is an expression of the character of the whole company of worshippers; they are to be the spokesperson of the collective voice of the congregation. By draping them in white it is a draping of all the people in that resurrection glory.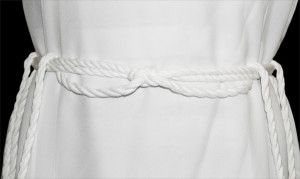 Cincture (girdle or fascia): Is either a strip of material that goes round the body above the waist (girdle) or a rope with tassels that is worn around the waist (fascia). This is meant to symbolise, like the dog collar, the being lead by God from John 21:18. I wear the fascia because it reminds me of my Roman Catholic heritage and has a monastic quality about it which I find helpful to remind me of my particular calling to ordained priesthood.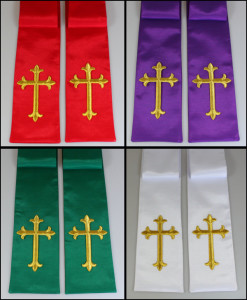 Stoles: Are the scarfs that get draped over the shoulders, for deacons in the 'Miss World style' and for the priests in the 'Football Supporter style'. This sybolises the yoke of Christ being laid upon the shoulders of the ordained person. It originated in the Roman society as a symbol of ofice and responsibility and there's still that element in the symbol today. We, who wear it bear the responsibility of leading the people in worship and voicing the communities prayers and concerns to God. You will find that these come in four or five different colours: white for times when we celebrate resurrection or the coming of God's Kingdom into the present (Christmas/Epiphany/Easter/Trinity, baptisms, funerals (sometimes) and weddings), purple for times of preparation and penitence (Advent/Lent) (sometimes blue is used in Advent as the penitence is seen as different and it is more of a Marian focus but I use purple to see Lent and Advent in similar contexts) (there is also Lent Array which is unbleached linen), red for times where we remember the Holy Spirit or martyrs (Pentecost/Feast Days) and green for 'ordinary time' where we settle into the rhythm of the world and it is our natural position to counterpoint the points of celebration or preparation.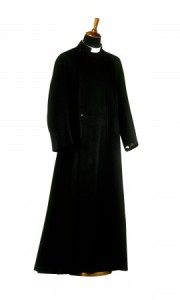 Cassock: Is a black garment similar to that of the Cassock Alb. At the reformation the Cassock Alb was seen as a symbolism of the abuses of clericalism where the clergy and those ordained were seen as being elevated beyond the reach of the laity. The reformers were keen to bring the work of the Church to the people and so they removed the symbolism. This reformation was focussed on the words used in the Church, hence the translation of the Bible into the common tongue. The reformation replaced the priest with the scholar, those who could read and interpret the Scriptures and the Cassock hints at the origins of being like the university gowns or the preaching monks (of which Calvin and Luther were).
Surplice: Is the thin white 'dress' which goes over the Cassock for the same reaon the Cassock Alb is white.

Preaching Scarf: Is a black scarf that is worn with Cassock and Surplice and is a reformation alternative to the Stole which symbolises the office and learning of the wearer.
When do I wear what?
I tend to wear Cassock Alb, Cincture and Stole for any sacramental activity (Holy Communion and Baptism). I am on a journey here too as to my honest understanding of 'sacrament' so this is not fixed at the moment in my mind. I ask myself,
Is my role to be placed in a 'between' time/space, an altar moment where heaven will kiss earth? Where we, the people of God will have a foretaste of God's Kingdom on earth?
If the answer is "yes" then I wear Cassock Alb et al.
If the answer is "no" but I still need to be identified as 'ordained' then I will wear a Cassock, Surplice and either Preaching Scarf or Stole (usually Preaching Scarf). This tends to be in civic services and funerals.
Weddings are up for grabs at the moment!
Reflection
There is often much discussion and personal opinions around the conversation of a 'uniform' for ordained ministers and I think it betrays are lack of agreed understanding as to our language around ordination and vocation. We are all uncertain as to how leadership, ministry and vocation works because there are so many theories and schools of thought around the subject. All the different denominations pick and choose their own view of ordained/ lay ministry and it creates a big tension. I agree that it is a secondary issue but, like most secondary issues, this is highly emotive and people get confused as to why we feel so strongly about it. For what its worth I feel it's about the personal response to distinction in vocation, history of who represents different ministries and how we have viewed it as an outsider. If you have been painfully hurt by the actions of an ordained person then that will tarnish your view of other clergy (understandably).
There is a complex cocktail of personal character and uniformed role going on with ordained ministry and therefore vestments articulate this tension within congregations. It is hard to hide from the confusion and different opinions when it is there for all to see. We can either get rid of the vestments and forget that different views are held or we can grab the nettle in our hands and patiently talk about what and why we think what we think.
There is an important conversation to be had about what it means to be ordained and what the alternative calls are on the life of a disciple. Maybe a more monastic view of ordination is worth revisiting and encouraging a distinction between church leadership and that of service through the priesthood and diaconate.
Lord, you call us all to be disciples, to lay down our lives and will to go where you want us to go. For some of us that will be a specific call to live out our discipleship in radical forms of obedience and to be an encouragement to others to pursue that holy life, set apart from the world but still loving and serving it. For others the discipleship will look very different and the role will be very specific in a particular area or to a particular people. Whilst we live in this complicated and fallen world may we hold out the hope that in the end we will all be transformed into the likeness of your Son and will worship together in Spirit and Truth at your heavenly throne.
Come, Lord Jesus.