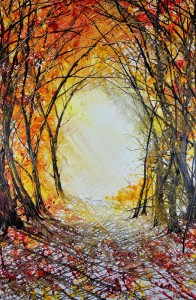 He made no attempt to record his work,
He left no mark in wood or stone,
No canvas or parchment marked by His hand.
Happy to risk anonymity, myth,
Trusting the eternal work to temporary beings.
Each word we write,
Each image we paint,
Marks of our existence
On this passing world.
If we are to live
Past the death so strong,
We must leave memorials
For generations yet to come.
But He has not finished,
His work not done.
He continues to plant,
Paint and sing.
His masterpiece is growing,
And will last forever.
His great opus
Offered for all to see.
Written for the annual Burning Fences weekend away held at Rivendale, Pickering, from Friday 25th – Sunday 27th April 2014 to compliment a reading of Jean Giono's 'The Man Who Planted Trees'.