At the start of this year I began a practice of writing for twenty minutes a day to enable me to improve in the art form. Last night, as I sat down to begin this disciplined work I could think of a hundred and one different things I could be doing; the major one was sleeping. The temptation to miss a day remains a constant issue but the voices are getting quieter. They take the form, usually, of a simple question,
What harm will it do if you miss just one day?
Then a suggestion,
It's not like you have anything particular to write…
It is that sentence which drives me to my desk, take up my pen and get to work. It's the fact I don't have any ideas to write or some pre-conceived concepts to wrestle out and process which inspires me to begin. You see, I have been involved in the arts for long enough to know what really makes us participate in creativity is the possibility to experience Surprise.
Surprise is the gold creatives and artists look for. It's those moments when, despite having a thought or inspiration, however much the process is structured or one plans the product prior to the start of the work, an artist surprises themselves with the creation. In that moment there's an awareness that we humans may not be alone in the process. We could break that particular encounter with surprise down into constituent parts like the 'enlightened' people we are but I know that such an exercise, stemming from 17th century science, has killed the arts. The research into creativity has led us no closer to a tangible explanation of that experience of 'inspiration'.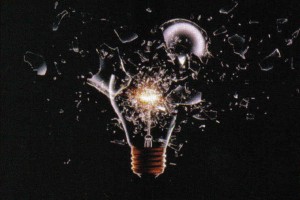 All artists are seeking that surprise because it is a divine moment; a meeting with a force unnameable, holy. It is un-manufacturable and many have tried to force it only to be left high and dry. The reason it can't be rushed or made to happen is because if you're focussing on creating a surprise it will no longer be a surprise.
So the artist sits or stands or moves to the material and attempts, not necessarily to 'empty themselves' completely but to empty enough to focus on the process of the creative act. It is an emptying enough to create a void into which the creative force can fill or take over. What a mystery the creative process is! How it is done, etc. no one can fully explain. Why sometimes it 'works' and other times one is left wanting, who can say?
The artist, unique from other creative people, is the one who returns to the material as a matter of discipline, to rick being disappointed for the nth number of times. Chuck Close wrote this,
The advice I like to give young artists, or really anybody who'll listen to me, is not to wait around for inspiration. Inspiration is for amateurs; the rest of us just show up and get to work. If you wait around for the clouds to part and a bolt of lightning to strike you in the brain, you are not going to make an awful lot of work. All the best ideas come out of the process; they come out of the work itself.
This truth reminds me of the work of monks or nuns at prayer; they don't wait around for an alignment of the stars to tell them when to pray, they turn up and start. They have more encounters with the Divine not because they are better at discerning or predicting the movements of God but because they turn up more often. They know how impossible it is to forecast the Almighty but He is always experienced Here and Now and never There and Then. When something is so ungraspable one has to give oneself more opportunities to catch it and so one enters the arena and waits but here's the real secret; it's not just a sitting and waiting but, while waiting, one gets to work and, after a time… surprise.