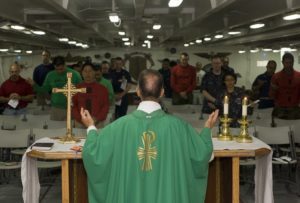 General Synod is an addiction for me; I know it's bad for me and causes me great harm but yet I can't resist engaging in it!
The latest gathering of Synod, like the recent gatherings before it, was rife with painful discord before it had even begun. As I prepared myself for social media outlets to fall into confusion and bitter rivalries (as it seems to do daily now!) I looked at an item on church vestments and thought
"At least there's a relatively trivial debate on frocks!"
Having said that, despite the two larger decisions to be passed at Synod, it was this 'trivial' one that causes me to reflect most theologically about the state of the Church of England at present. As a mixed tradition mongrel of Roman Catholicism and Charismatic Evangelical I have already thought deeply about my use of vestments and, although many would say I am conflicted in my current practice, choosing to wear vestments at times and at other times not, I do know where I stand on this issue (see my post on vestments here.) This piece of legislation, for me, was going to be merely a naming of my current practice but has caused me to reflect again on that practice and the implications it presents.
My current practice is that for baptism and Holy Communion I robe for anything else I don't. I'm Roman Catholic for their sacraments, charismatic evangelical the rest of the time! It's not fool-proof but it's what I have settled with for the moment. The other thing I'd want to stress is that I am, of course, contextually sensitive; if a context demands or requests I wear robes I do and if they would cause the congregation distraction I don't.
The reason this decision has caused me to reflect, however, is an ecclesiological one. This albeit minor decision betrays the current confusion and division over the Church of England's understanding of church and authority. This small, 'harmless' legislation again highlights the underlying conflict at the heart of Anglicanism in the 21st century and like the turmoil 500 years ago which caused the Great Reformation and 500 years before that the Great Schism and 500 years before that the establishing of the Great Councils it is caused by a lack of clarity on authority.
The cause of this uncertainty of authority stems from several sources sweeping across Synod and disrupting, distorting and severing fellowship and peace. One source is the individualising of society by our subjective post-Enlightenment libertarian/liberal philosophy. I have written on this so much I don't want to unpack it anymore (if you're interested read any other blog post and it'll be there!) This is truly a massive problem when it comes to our understanding of Christian community.
The second source is, on it's own, not a negative force (in fact it is quite the opposite): the rise in charismatic evangelical theology of which I am a son.
The charismatic movement began with the Pentecostal revival at the start of the 20th century and came to prominence in this country during the latter parts of the century. One aspect of this theological movement is a more egalitarian ecclesiology. If all God's people are able to be filled with God's Spirit, be used by God and receive prophetic words and pictures then power is no longer placed in one specific person but within the Body. The understanding of the priest as a kind of conduit for prayer and worship is dismantled. This is a good and proper challenge for the Church.
The prime time when this is exercised is in charismatic worship/prayer events where the gathered community wait on God and speak out words of knowledge and prophecy, speak in tongues and (often forgotten) interpretation of tongues. To keep in line with St Paul's deep desire for order in church services there is a suitable place of weighing up words and pictures but ultimately everyone is encouraged to encounter God and share what they hear from Him. All voices are given a hearing. St. Paul emphasises in his important discussion on worship in 1 Corinthians 11-14 the necessity for order and the need for 'one to interpret' and to 'weigh what is said'. (I don't want to go into the exegesis of the refusal of the female voice in this context!)
In these events the 'leader' may well be a lay worship leader assisted by another 'leader' or vice versa. That 'leader' does not have to be ordained and they become, quite rightly, more of a facilitator. This role is key but is rarely trained with the gravity and import it deserves. People are released to lead these gatherings and imitate others without any rigourous understanding of authority. This enabling of lay leadership is rightly to be encouraged, however, but it is in this context that vestments becomes a potential stumbling block.
Vestments, historically, have sought to be signifiers of authority within the worshipping life of a congregation. The clothing is, in this respects, uniform, identifying the person in a particular role. This has meant that bishops, priests, deacons, lay readers, etc., all of whom have specific roles in a worshipping community have had these visible signs of those roles. In the new context where lay leadership is being encouraged vestments are a sign of restricting power to ordained/licensed individuals. To truly allow the laity to thrive we must, understandably, remove the vestments from the ordained but in so doing we must also remove sole authority too.
The charismatic tradition, particularly when wedded to the evangelical tradition, within the Church has really flourished over the last few decades and is one of the largest growing traditions in the Church in England. I want to stress how indebted I am to this inheritance and believe God is using it for His glory in His Church but…
It is not hard to see that within a culture where authority is placed solely on the individual and their perceived experience of the world the charismatic evangelical tradition has a lot to offer. The evangelical tradition gives, if not carefully taught, a highly individualised faith experience; salvation is for the individual, it is not a communal experience. Mix that with the charismatic tradition where the emphasis is on the personal experience of God we have created worship which is, collective in that it is expressed best with others but the experience remains rooted in the individual. The ecclesiology of the charismatic evangelical tradition is individualised, experiential and struggles to present a truly communal reality.
In his article "Human Capacity and Human Incapacity", John Zizioulas outlines the difference between traditional philosophical thought on personhood and the unique Christian understanding.
…Western thought arrived at the conception of the person as an individual and/or personality, i.e., a unit endowed with intellectual, psychological and moral qualities centred on the axis of consciousness.
For the Christian, however,
…being a person is basically different from being an individual or ʻpersonality' in that the person can not be conceived in itself as a static entity, but only as it relates to. Thus personhood implies the ʻopenness of being', and even more than that, the ek-stasis of being, i.e. a movement towards communion which leads to a transcendence of the boundaries of the ʻself' and thus to freedom. (John Zizioulas, "Human Capacity and Human Incapacity: A Theological Exploration of Personhood", T.F. Torrance and J. K. S. Reid (eds.), Scottish Journal Theology Vol 28 (1975), p.406)
I have argued repeatedly that the UK's capitalist liberal democracy has shaped the way we participate in Christian community, i.e. limited us on the individual participants own experience of God. It is in this view that Zizioulas' statement is important.
Zizioulas' ʻopenness of being' lends itself to the charismatic experience seen in many of the growing churches in the UK. Charismatic theology emphasises the importance of a transcendent experience and is achieved by creating an expectation of receptivity to God's gifts. The challenge comes when attempting to be open to God, allowing others to be used by God to speak to you whilst remaining an autonomous individual; the central authority in our post-modern philosophy.
Samuel Wells takes this idea of receiving gifts and discusses an improvisational device called ʻoveraccepting' as a potential tool for Christian ethics.
Overaccepting is accepting in the light of a larger story. The fear about accepting is that one will be determined by the gift, and thus lose one's integrity and identity. The fear of blocking is that one will seal oneself off from the world, and thus lose one's relevance and humanity. Overaccepting is an active way of receiving that enables one to retain both identity and relevance… Christians imitate the character of God to the extent that they overaccept the gifts of creation and culture in the same way God does. (Samuel Wells, "Improvisation in the Theatre as a Model for Christian Ethics", Trevor Hart and Steven Guthrie, Faithful Performance: Enacting Christian Tradition (Aldershot: Ashgate, 2007) p.161)
Within this framework we can go someway in achieving both communion with others whilst remaining unique enough to have an identity. Zizioulas' further development in his understanding of personhood challenges individualism by suggesting we must de-individualise Christ.
In order that Christology may be relevant to anthropology, it must ʻde- individualise' Christ, so that every man may be ʻde-individualised' too. (John Zizioulas,
"Human Capacity and Human Incapacity", p.438)
Christ's de-individualisation is, for Zizoulas, pneumatologically conditioned because it was only ʻof the Spirit' that Christ united the human, one individual, and the divine, another individual. In this way the Spirit makes it possible for one to be many and so constitutes, for Zizioulas, the church.
…the mystery of the Church is essentially none other than that of the "One" who is simultaneously "many". (John Zizioulas, Being as Communion: Studies in Personhood and the Church (London: Darton Longman and Todd) p112)
Zizoulas goes on to suggest that
If the Church is constituted through… Pneumatology, all pyramidal notions disappear in ecclesiology: the "one" and the "many" co-exist as two aspect of the same being. (Zizoulas, Being Communion, p.139-141)
Zizioulas' belief that this will ʻremove any pyramidal structutures', as understood by our current culture, is undermined, however, by his continued assertion of the importance of the presence of a bishop, as representative of Christ, within the community. This order of precedence raises the "one" above the "many" and thus creates, for our culture, a hierarchy. Indeed, it is the role of bishops and, to a certain degree, clergy in general that has been seen as the undermining of the full realisation of an egalitarian, flat leadership encouraged within charismatic theology and the wider culture. It is the vote on vestments that deconstructs further the role of clergy within the church which have held sway over the Church, for better or worse.
Jürgen Motlmann's ecclesiology offers us a helpful addition.
The doctrine of the Trinity constitutes the church as a "community free of dominion." The Trinitarian principle replaces the principle of power by the principle of concord. Authority and obedience are replaced by dialogue, consensus, and harmony… The hierarchy which preserves and enforces unity is replaced by the brotherhood and sisterhood of the community of Christ. (Jürgen Moltmann, The Trinity and the Kingdom: The Doctrine of God (Minneapolis: Fortress Press, 1993) p202)
Moltmann's social Trinity is a communion free from dominion and authority and offers an ecclesiology for our generation who are hungry for the intimacy of community whilst maintaining autonomy of individualism.
Moltmann outlines three different paradigms of the church: The Hierarchical paradigm of God the Father, the Christocentric paradigm of God the Son and the Charismatic paradigm of God the Spirit. He suggests that in the Early Church there was a monarchic social structure seen through the authority of the Father and manifested itself in Papal supremacy. This caused a social rebellion in the form of the Reformation, which replaced such a view with a brotherhood of believers based on the centrality of sola scriptura. Moltmann admits,
Of course, practically speaking the distinction between trained theologians and people without any theological training has taken the place of priestly hierarchy. (Moltmann, Sun of Righteousness, Arise! God's Future for Humanity and the Earth (Minneapolis: Fortress Press, 2010) p23)
Tony Jones, an ecclesiologist writing about Moltmann's theology, suggests,
While Moltmann admits the christocentrism did not entirely overwhelm the hierarchical church, he fails to acknowledge… that hierarchy has been just as prevalent in his own Reformed tradition.(Tony Jones, The Church is Flat: The Relational Ecclesiology of the Emerging Church Movement (Minneapolis: JoPa Group, 2011) p144)
In the last of these paradigms, it is God the Spirit that brings unity whilst encouraging plurality. In the charismatic congregation, Moltmann suggests,
no one has a higher or lower position than anyone else with what he or she can contribute to the community.
In this context vestments become void of any purpose and all symbols of hierarchy and power can be dismissed. This paradigm, however, can be, and, as I am arguing, has been, too easily adopted by the individualism of our age as Moltmann goes on to say,
…all are accepted just as they are…Everyone is an expert in his or her own life and personal calling. (Moltmann, Sun of Righteousness, Arise! God's Future for Humanity and the Earth (Minneapolis: Fortress Press, 2010) p23-25)
And there it is: the mantra for the Church at the present time. No one can tell anyone what is right or wrong. All must be accepted and placed as equally authoritative and by so doing authority is displaced and no longer shared.
The Church of England is currently facing a new social rebellion akin to the Great Reformation and again it is about power and authority. The Reformation caused authority to be placed in Scripture and thus power/authority was placed in the hands of any who could read and interpret the text. Richard Hooker, who I would argue is the the architect of Anglican ecclesiology, later stated the need for three authorities: Scripture, tradition and reason, with Scripture having a form of primacy.
I believe we have seen an ascendance of reason as the primary authority under which the others must fall but, with the advent of charismatic theology, there is a need to rightly emphasise the Holy Spirit's authority in the Church which has morphed intellectual reason to 'experience'. I would say that the Holy Spirit is in all of these but I understand the move from reason to experience and it comes down to semantics for me. I would argue, however, that this 'experience' has been adopted by our individualised culture, abandoning objective truth and making 'reason' subjective experience and this is now our sole authority. It is the individualised experience, by way of the charismatic evangelical tradition being allowed to continue without rigorous ecclesiological questions being asked, that is now seen in Synod debates. The vast majority of decisions now are made on the basis of individualised experience which is a distorted understanding of reason and from this Scripture is re-interpreted and tradition is changed.
The decision on vestments opens for us the gaping hole in our ecclesiology and the social rebellion occurring in the church will only end in division if authority is not placed somewhere safe to bring about St. Pauls' order and decency.