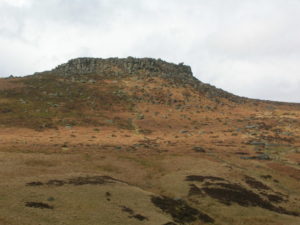 Above me rock, grey and fresh.
Below me bog failing to dredge.
All around, vast iron fortifications
Sheltering, under, damp bronze fern.
Circling the stone refuge foundations,
Holding up the tower of the Old Man,
Up there in the wind swept heights.
Down here the cloistered valleys.
Ascending the cast ire
On unaccustomed foot.
Descending to the umber
Of the bitter terrain.
Up to the vistas
And all he surveys.
Down to the mire
Wading through his malaise.
Written on my first walk near my new home in the Peak District on Tuesday 3rd January 2017.