We enter into Holy Week with the intention of re-living the events of Jesus' final days before his cruel death on Good Friday.
We seek to experience, as much as we can, the various emotions he felt and to go through the sense of loss, abandonment, doubt, despair and pain that he endured.
We do these things whilst knowing and acknowledging that we are in a privileged position. We know the end of the story and it is hard to completely forget but it is also wrong to reject the memory of the resurrection and to not allow, in some way, for that to impact on how we see the days that proceeded it.
We enter, therefore, into a paradox; of wanting to participate, in some way, in his kenosis (emptying of self) in the way he did whilst, at the same time, trusting in the faithfulness of rescue and purpose that we profess to owning within us.
We want to proclaim,
Dead man walking.
and, although he will die, it is true, it is more true of us: We are 'dead people walking'. We walk his journey to death each day of our lives but the joy and splendour of the Christian life is that we too can cast off that name and confidently stride into freedom shouting,
He is risen. He is alive!

He is risen. We are alive!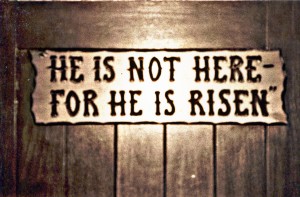 May this season of Easter be, for you, a time of awakening to the reality of the gift of life offered to you.
So we are called not only to believe that Christ once rose from the dead, thereby proving that he was God; we are called to experience the Resurrection in our own lives by entering into this dynamic movement, by following Christ who lives in us. This life, this dynamism, is expressed by the power of love and of encounter: Christ lives in us if we love one another. And our love for one another means involvement in one another's history. Christ lives in us and leads us, through mutual encounter and commitment, into a new future which we build together for one another. That future is called the Kingdom of God… The Resurrection is not a doctrine we try to prove or a problem we argue about: it is the life and action of Christ himself in us by his Holy Spirit. (Thomas Merton, He is Risen (Illinois: Argus Communications, 1975))